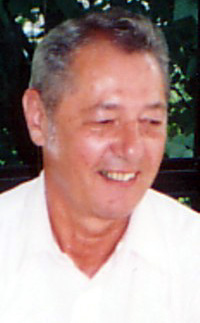 On a cool and rainy April morning at the RI Veterans Cemetery, family and friends said goodbye to dedicated volunteer Stan Essex. Virtually single-handedly, Stan restored our "Ted Williams Airplane", a Korean War era F9F Panther. Earlier, he restored the Hellcat for the Quonset Air Museum. More details of his life and a detailed article about this aviation-related exploits can be found below.
[toggle type="white" title="Full Obituary"]
Stanley H. Essex, Jr.
, 82, of Warwick passed away Sunday, April 14, 2013 at Greenwood House. He was the husband of the late Carmela C. (Venturino) Essex. Born in Amesbury, MA, he was a son of the late Stanley H. Essex, Sr. and Harriette (Gebo) Essex.An Electronics Technician, Mr. Essex was a co-owner of S&S Electronics from 1956-1970 and was then employed by Fisher & Porter Co. until his retirement in 1992. He served in The United States Navy during the Korean War. He volunteered at the Quonset Naval Air Station Museum. In November 2012, Mr. Essex was inducted into the R.I. Aviation Hall of Fame for service in Korea and his volunteer work at the Quonset Naval Air Station Museum and the USS Saratoga Museum.He was the beloved father of Steven J. Essex and his wife Susan of Warwick and Doreen Bagley and her husband Todd of Las Vegas, NV. Loving grandfather of Steven J. Essex, Jr. and Deandra Essex. Caring brother of Dolores McGuire of Virginia.Relatives and friends may gather on Saturday, April 20, 2013 at 8:45 am at the Administration Bldg. of R.I. Veterans Memorial Cemetery, South County Trail, Exeter. Calling hours respectfully omitted.
In lieu of flowers, gifts in his memory to the USS Saratoga Museum Foundation, Inc., P.O. Box 845, North Kingstown, R.I. 02852 would be appreciated.
Arrangements by THE URQUHART-MURPHY FUNERAL HOME.
[/toggle]
[toggle type="white" title="Stan's Aviation Accomplishments" active=""]
Click here to view a 5-page article about Stan's impressive aviation accomplishments over his lifetime, as presented in the program of the 2012 Rhode Island Aviation Hall of Fame.
[/toggle]