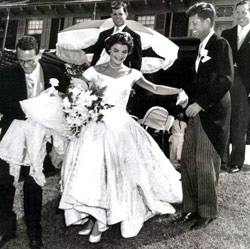 The name "John F. Kennedy" is magic in the northeast, and especially so in southern New England. Locating the USS John F. Kennedy, JFK's namesake legacy, in Rhode Island would be most appropriate given President Kennedy's close association with this State, including his wartime training at Melville, his marriage in Newport and the Summer White House years at Hammersmith Farm.
JFK also spent time in this state as a Senator, giving a number of noteworthy speeches—to include a 1953 Jefferson-Jackson Day dinner at Rhodes on the Pawtuxet in Warwick. Two years later, he gave a major speech on flood insurance at the Stone Bridge Tavern in Tiverton.
Perhaps his best-known association with this state, however, was his September 12, 1953 wedding. After a bachelor dinner the night before at the exclusive Clambake Club, more than 750 guests filled St. Mary's Church in Newport to watch as John Kennedy and Jacqueline Bouvier exchanged wedding vows in a ceremony presided over by Archbishop Richard Cushing.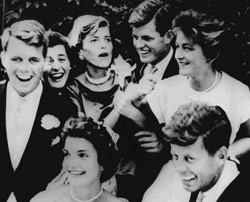 Following the 40-minute ceremony at which a papal blessing was read, the new couple emerged into a throng of 3,000 well-wishers as they made their way by motorcycle escort to Hammersmith Farm, the nearby Auchincloss estate, a place filled with happy memories of the summers the bride had spent there as a child.
After two hours of greeting family and friends in a receiving line, the bridal couple joined the 1,200 invited guests for champagne and dancing. The couple cut a five-tier wedding cake, and then a luncheon of fruit cup, creamed chicken, and ice cream sculpted to resemble roses was served.
Late that afternoon, Senator and Mrs. Kennedy departed Hammersmith Farm amid a shower of paper-rose petals. They traveled to New York to spend the night at the Waldorf Astoria before continuing on to Acapulco, Mexico for a two-week honeymoon.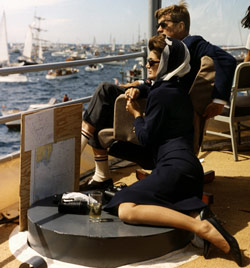 During the Kennedy Presidency, Hammersmith Farm became known as the Summer White House. JFK spent many weekends and vacations in Newport, mixing business with relaxation as he met with a number of world leaders, to include Prime Minister Jawaharlal Nehru of India and President Mohammad Ayub Khan of Pakistan.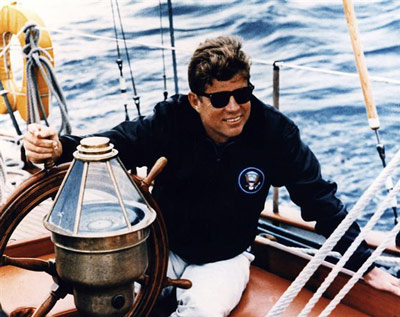 [button type="simple_button_link" url="https://www.ussjfkri.org/jfk-history-man-ship/the-ship-cva-67/" target="" ]Next: The Ship[/button]