[clear]Named in honor of the 35th president of the United States, the aircraft carrier USS JOHN F. KENNEDY was the last conventionally-powered aircraft carrier built by the US Navy. She was ordered in April of 1964, and her keel was laid down in October of 1964 at the Newport News shipyard. Originally scheduled to become the fourth KITTY HAWK class carrier, the JFK received so many modifications during construction that she formed her own class.
President Kennedy's 9-year-old daughter, Caroline, christened the ship in May 1967 in ceremonies held at Newport News, Virginia; the ship subsequently entered naval service on September 7, 1968.
KENNEDY was originally designated as CVA 67, attack aircraft carrier. In the early 1970s, the classification was changed to CV 67, indicating the ship was capable of supporting anti-submarine warfare aircraft such as the S-3 Viking, making her an all-purpose, multi-mission aircraft carrier.
KENNEDY's maiden voyage was to the Mediterranean sea. She subsequently made another seven deployments to this area of the world through the '70s in response to a deteriorating situation in the Middle East. On January 4, 1989, while conducting routine operations during her 12th major deployment to the Mediterranean, F-14 Tomcats from the embarked air wing shot down two Libyan MIG-23s that were approaching the battle group in a hostile manner.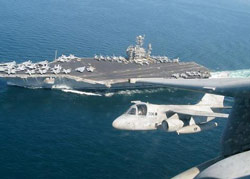 In August, 1990, with just four days notice, KENNEDY deployed in support of Operation Desert Shield. KENNEDY entered the Red Sea in September 1990 and became the flagship of the Commander, Red Sea Battle Force. On January 16, 1991, aircraft from the ship's Carrier Air Wing THREE began Operation Desert Storm with attacks on Iraqi forces. The ship launched 114 strikes and 2,895 sorties, with aircrews of CVW-3 flying 11,263 combat hours and delivering more than 3.5 million pounds of ordnance in the conflict.
In 1995 the Kennedy was transferred to the Naval Reserve, where it became the first aircraft carrier to so serve. Though assigned to the Reserve as a training support vessel, the Kennedy was kept in a mission-ready status, and following a 6-month deployment with an active duty air wing in 1997, the Navy decided to return the Kennedy to the active carrier deployment rotation list.
In 1999, JFK participated in Operation Southern Watch, flying combat missions while enforcing the no-fly zone over Iraq. The JFK/CVW-1 team set new records in bombing accuracy while employing the most lethal combination of precision weaponry ever put to sea, amassing 10,302 arrested landings along the way. On Jan. 1st, JFK earned the nickname "Carrier of the New Millennium" by being the only carrier underway as the year 2000 arrived.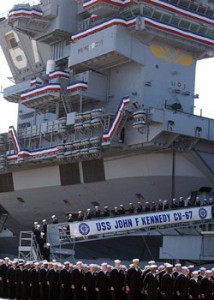 Kennedy's 17th deployment was accelerated by three weeks in response to the 9/11 terrorist attacks on America; Kennedy deployed Feb. 7, 2002 to the North Arabian Sea in support of Operation Enduring Freedom. During her four months in the North Arabian Sea, the embarked air wing, CVW 7, dropped more than 64,000 pounds of ordnance on Taliban and al Qaeda targets. Kennedy's planes flew day and night missions over Afghanistan, providing American and coalition Forces on the ground with close air support. In early April, Kennedy became the only aircraft carrier operating in support of Operation Enduring Freedom.
In 2004, with budget cuts looming, operational costs making her the most expensive carrier in the fleet to operate, and facing a major overhaul, the Navy decided to retire the Kennedy.  The ship sailed up the east coast for a final port visit to Boston, MA, in early March 2007. Her decommissioning ceremony took place on March 23, 2007, at Mayport, FL. The official decommissioning date for the USS JOHN F. KENNEDY was August 1, 2007.
The Kennedy participated in 18 official deployments during her 38-year career.
For a detailed history, please visit USS JFK's entry in the Navy's Dictionary of American Naval Fighting Ships:
[clear]
[tabgroup][tab title="Ship Specs"]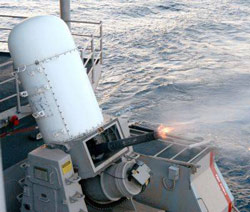 Displacement: 60,728 tons light, 82,655 tons full load, 21,927 tons deadweight
Length: 1,052 feet (321 m) overall, 990 feet (300 m) waterline
Beam: 252 feet (77 m) extreme, 130 feet (40 m) waterline
Height: 192 feet from top of the mast to the waterline
Operational draft: 36-37 feet (11 m)
Current draft:
Propulsion: 8 x 1,200 psi (8.3 MPa) conventional (non-nuclear) boilers, 4 steam turbines, 4 shafts, producing 280,000 shp (210 MW)
Speed: 34 knots (63 km/h)
Complement: Ship's Company 3,297 officers and men; with air wing embarked, about 5500
Armament: 2 x GMLS Mk 29 launchers for Sea Sparrow missiles
2 x 20 mm Phalanx MK15 CIWS (Close-in Weapon System)
2 x RAM (Rolling Airframe Missile) launchers
Aircraft carried: 80+[/tab]
[tab title="Interesting Facts"]
At 1,052 feet in length (990 feet at the waterline) USS JFK would reach to the 84th floor of the Empire State Building if stood on end. That would also make her the tallest building in Rhode Island.
The flight deck is 252 feet wide at its widest point. The steel flight deck is 1 3/4″ thick  and covers a total area of approximately four and a half acres. It is wide enough to sit both the SS United States and the SS America side‑by‑side on her deck; the deck is as wide as a World War I destroyer was long.
From keel to mast, the ship is as tall as a 25 story building. There are 18 levels including the island, and more than 3,000 separate compartments or spaces.
The engines deliver more than 280,000 horsepower, or enough to keep about 1,530 1968 six-cylinder Ford Mustangs on the road. There are four bronze propellers (five-bladed), and each is almost 22 feet high and weighs about 33 tons. The two rudders weigh as much as 45 tons each.
The ship carried two 30-ton anchors. There are 684 links of anchor chain, and each link weighs more than 350 pounds. Each chain could reach a depth of 180 fathoms (1,080 feet).
The hangar deck is the main area inside the ship for handling, parking and repairing aircraft . It comprises more than 75,000 square feet–almost two acres–and can house more than 80 planes.
Storerooms on the ship are equal to a six‑story warehouse one block square and have a total capacity of 371,204 cubic feet.
It takes 300,000 gallons of paint to paint a super carrier. This is enough to paint 30,000 average homes.
The ship cruises at a speed of some 34 knots, or close to 40 miles per hour if you are driving a car. (Her top speed was classified, but rumor has it that it was quite a bit higher than that.) The estimated fuel load is 11,200 tons, or 3.2 million gallons.
More than 52,000 tons of structural steel went into her construction–along with more than two million tons of weld metal. Fully loaded, she displaces more than 80,000 tons and draws about 37 feet of water (distance between the waterline and the keel). As she is now, without fuel, supplies, crew or aircraft aboard, USS  draws about 5 feet less.
The fresh water plant of a Forrestal class carrier is capable of producing 290,000 gallons daily; the on-board air conditioning has a capacity of 1,050 tons.
The communications system aboard a Forrestal class carrier included more than 2,300 telephones, and the electronics systems used more than 1 billion tubes, transistors, etc. and more than 10,000 miles of electrical wiring.
Please Note: References made above to Forrestal-class carriers are not intended to imply that CV-67 was a member of that class. As stated in the first paragraph at the top of this section, JFK was originally scheduled to be of the Kitty Hawk class, but she received so many modifications during construction that she formed her own class. The facts stated above are accurate for Forrestal class ships, and are expected to be similar for the USS John F Kennedy. [/tab]
[/tabgroup]
[button type="churchope_button" url="https://www.ussjfkri.org/jfk-history-man-ship/history-of-the-ships-crest/" target="" ]Next: The Crest[/button]