Thank you for your patience as we sort out our options and work to develop an action plan going forward.
At a board meeting yesterday, we concluded the following: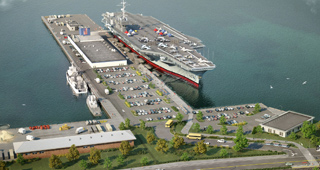 The fat lady hasn't sung yet.
We still have a couple of cards to play, and until we have exhausted ALL our options we want to hold back from any massive email or letter-writing campaign.
When and if we do launch a public appeal to top Navy leadership and our representatives in Congress, it must be positive.
The last thing we want to do is alienate the very people who have the power to give us what we want. At the appropriate time we will provide talking points to help you craft those messages.
To further explain the situation as we see it:
There are two separate (but very related) issues in play here, and two different commands within the Navy dealing with those issues. Naval Sea Systems Command (NAVSEA) controls the disposition of the ship, while Naval Facilities Command (NAVFAC) controls the real estate—and the piers.
The way we read the tea leaves, NAVFAC's decision not to allow us access to Pier 2 in Coddington Cove causes NAVSEA to believe we don't have a site to berth the ship—thus the potential move toward scrapping JFK.
It stands to reason that if we can identify an appropriate mooring site on property not owned by the Navy, we will be in a strong position to argue for the return of JFK to donation status.
We need 60 days to review those alternatives. The engineering analysis involved will cost money, so we are setting up a separate fund just to cover those expenses. If everyone on this page were to donate $50 to this year-end appeal, we would be well-positioned to do the work necessary to justify a reconsideration by the Navy.
[button type="churchope_button" url="https://www.paypal.com/cgi-bin/webscr?cmd=_s-xclick&hosted_button_id=7M5HKNQNV2NMQ" target="on" button_color_fon="#d50b10″ ]Donate to the Engineering Fund Today[/button]
Please consider a year-end tax-deductible contribution to the Engineering Fund. In the meantime, we are working tirelessly to locate another mooring spot for "Big John". We have come this far, we are not giving up now!
–Frank Lennon