Nearly two years ago, award-winning videographer and editor Tom Zwemke offered to film, edit and produce promotional videos for the JFK project. The result was a magnificent video which can be seen HERE or at the bottom of this article. Tom donated the entire cost of the production.
The video includes interviews with a number of prominent supporters, including Congressman David Cicilline (D-RI); Congresswoman Martha McSally (R-AZ); and the late Gene Cernan, last man to walk on the moon.
During the production Tom met and befriended retired VADM Jerry O. Tuttle and his wife Barbara. Admiral Tuttle commanded USS John F. Kennedy in 1977 and 1978.
That growing friendship culminated on December 27, when Tom presented Admiral Tuttle with a 1/350 scale museum-quality model of CV-67 at the Tuttle home in McLean, Virginia. Massachusetts Congressman Joe Kennedy III supported the presentation via video.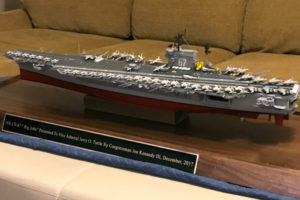 Thomas Zwemke is a Wichita-based videographer, still cameraman and video editor who has earned an Emmy award nomination and more than 25 other national awards. He is a Vietnam veteran, having served in the Newport-based destroyer Samuel B. Roberts. He later served in the Coast Guard Reserve. After graduating from Wayne State, he spent ten years in TV and radio broadcast, followed by a 30-year career with Cessna Aircraft. At Cessna he developed, directed and produced more than 500 multimedia programs for new products, working with Hollywood producers, agencies and musical talent. He produced four major documentaries, two of which aired on PBS. After retiring from Cessna he launched his own firm, and has produced annual award videos for the National Business Aircraft Association, the National Aviation Hall of Fame, and the prestigious Wright Brothers Award.