We continue to make slow but steady progress on a number of fronts.
National Ocean and Atmospheric Administration (NOAA)
As previously reported, NOAA plans to build a new facility at the old Derecktor Shipyard site at Naval Station Newport to berth and support its research vessels.The site is south of Pier 1 and would not conflict with our plans to berth JFK at Pier 2. However, while that facility is under construction NOAA plans to berth two of its vessels, Okeanos Explorer and Bigelow at pier 2. Naval Facilities command (NAVFAC) wanted to make sure we coordinated with NOAA to make sure that JFK's arrival would not create a conflict, since NOAA's preferred berth was also on the north side of Pier 2.
After a recent meeting with NOAA, they confirmed to NAVFAC that they were willing to move to the south side of the pier so long as proper security was provided and any costs associated with such a move (to include piling repairs) were borne by the JFK Project.
US Coast Guard
Since the Coast Guard recently constructed a new support facility on the bulkhead just south of Pier 2, and plans to moor USCGC Tigershark on the south side of the pier indefinitely, it was also important for us to coordinate in a similar fashion. That meeting took place recently, and once again the Coast guard posed no objections, subject to the same assurance of appropriate security.
State of Rhode Island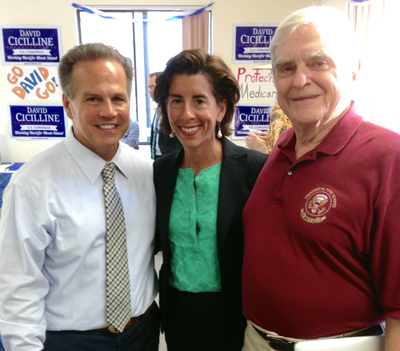 USS JFK Project president Frank Lennon had the opportunity to speak with Governor Raimondo at a recent event hosted by Congressman Cicilline. The Governor reiterated her enthusiastic support as originally expressed when she was General Treasurer. (see photo).
Subsequently, Discover Newport Executive Director Evan Smith and Lennon had a very productive meeting with Commerce Secretary Stefan Pryor and his staff, and we expect good coordination moving forward.